Milestone
Achievement Award
>> 9 DECEMBER 2014
PRESS RELEASE
[read more]
>> 18 NOVEMBER 2013
Top Alliance Partner Achievements Recognized During NIWeek 2013
[read more]

>> 15 JULY 2011
Using an NI PXI-Based Solution to Develop a Pipelined Test System for Proximity Sensors
[read more]

>> 01 JANUARY 2010
Winner of the 2010 ASEAN
[read more]
News & Awards
>> 18 NOVEMBER 2013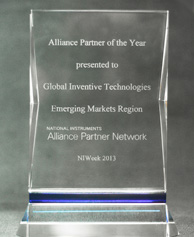 Top Alliance Partner Achievements Recognized During NIWeek 2013
Today, the National Instruments Alliance Partner Network welcomed hundreds of Alliance Partners to Alliance Day 2013. The event is reserved exclusively for NI Alliance Partners and the NI sales team for collaboration, NI product and technology updates, business best practice sharing, and networking opportunities.

NI Alliance Partners announced the following five new products:
Deploy automated deployment toolkit, Wirebird Labs
RF Studio RF record-and-playback software for the NI USRP™ (Universal Software Radio Peripheral), Averna
Raima Database API for LabVIEW, Raima
ModeFRONTIER for LabVIEW hardware-in-the-loop and advanced optimization algorithms, ESTECO
Chameleon configuration-based data logger, PVI Systems
In addition, the LabVIEW Tools Network Awards recognized the top achievements in add-on software and hardware. Five companies received product of the year awards for LabVIEW add-on development in automated test, embedded control and monitoring, data acquisition, LabVIEW innovation, and community (free downloads).
Automated Test – Tool Qualification Kit for NI TestStand, CertTech, L.L.C.
Embedded Control and Monitoring – Raima Database for LabVIEW, Raima
Data Acquisition – Chameleon for NI CompactDAQ, PVI Systems
LabVIEW Innovation – Deploy, Wirebird Labs
Community – TSVN Toolkit, Viewpoint Systems, Inc.
System integration and consultant companies in the program were honored in three categories for the business value they provide customers based on NI technology and graphical system design.

Based on their number of NI Architect or Developer certfications visible to customers on the directory, these companies were recognized for Outstanding Technical Resources:
Alliance Member Level – Enable Integration
Silver Level – ARCALE
Gold Level – Optimation
Platinum Level – Bloomy Controls
For Outstanding Online Presence (videos, case studies, and datasheets) available to customers through their directory, the following companies were recognized:
Alliance Member Level – IPSES Scientific Electron
Silver Level – 6TL
Gold Level – CIM Industrial Systems A/S
Platinum Level – Cal-Bay Systems, Inc.
Four companies were selected by NI Sales leadership for the Regional Partner of the Year awards as overall examples of our mutual investments and business relationships.
Cal-Bay Systems – Platinum Alliance Partner, Americas Region
Loccioni – Gold Alliance Partner, Europe Region
VI Service Network – Gold Alliance Partner, East Asia Region
Global Inventive Technologies – Alliance Partner, Emerging Markets Region
"On Alliance Day, we show our Alliance Partners how we have re-energized our Alliance program as well as give them a vast array of training," said Tony Vento, vice president of Systems Assurance and the Alliance Partner Network. "Alliance Day also offers our Alliance Partners the chance to showcase their expertise and collaboration with NI."

For more information about the system, please visit this link.