Milestone
Achievement Award
>> 9 DECEMBER 2014
PRESS RELEASE
[read more]
>> 18 NOVEMBER 2013
Top Alliance Partner Achievements Recognized During NIWeek 2013
[read more]

>> 15 JULY 2011
Using an NI PXI-Based Solution to Develop a Pipelined Test System for Proximity Sensors
[read more]

>> 01 JANUARY 2010
Winner of the 2010 ASEAN
[read more]
MISSION
At GIT, we strive to be the leader as an engineering-oriented systems integrator focusing on innovative customized Test & Measurement, Automation & solutions.
VISION
Our Automated Test & Measurement Solutions enables us to provide our customers with innovative ideas that help them improve Productivity & Efficiency.

Our specialty lies in full integration of the latest modular instruments or mix and match with bench type test instruments, customize test software development, electrical design layout and mechanical design of tester.
In the
Spotlight

Since the setup of Global Inventive Technologies in Year 2008, GIT has been working in tandem with National Instruments in providing Test & Measurement Solutions and Automation Solutions for a wide range of industries that include but not limited to Semiconductor, Electronics, Automotive, Energy, Communication and Industrial Automation industries. GIT- NI collaboration in PH has successfully deploy hundreds of Testers System locally, with employ of Local based Engineers. GIT is one of the pioneer Alliance Member & Authorized Distributor of National Instruments Products in the Philippines
Starting Year 2015, GIT aggressively expand in Factory Automation business, and successfully deployed various Automated Conveyor Lines to our manufacturing customers in Philippines. GIT aims to localize the Mechanical Design, Software Development, Onsite Setup/Installation & Maintenance support in Philippines. To provide our valuable customers shorter turnaround services and cost effective solutions.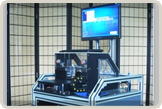 What provide for you?
Software development
(LabVIEW, CVI, Test Stand)
Hardware development
Test Systems Development
Factory Automation
Mechanical design
For more information, please visit www.fujimaster.com